(Belvedere)RED: Premium vodka drinken voor het goede doel
De super premium vodka Belvedere slaat de handen in elkaar met de wereldwijde HIV/AIDS campagne RED stichting. Van elke special edition fles BELVEDERE
(PRODUCT)RED ™ die verkocht wordt, gaat de helft van de opbrengst naar het "Global Fund", 's werelds prominentste financier in de strijd tegen HiV/Aids,tuberculose en malaria in Afrika.



Door deze Special Edition Belvedere Red fles te kopen, doneer je dus een aanzienlijk bedrag aan het goede doel. Bovendien kan je genieten van een stijlvolle en karaktervolle vodka met een subtiel vleugje vanille en een zijdezachte structuur.
De exclusieve (Belvedere) RED Special edition vodka in België werd vorige week gelanceerd in de Fiesta club in Brussel in aanwezigheid van de rapper '50 cent'. Een spetterende party om te vieren dat je nu ook "altruïstisch" kan feesten.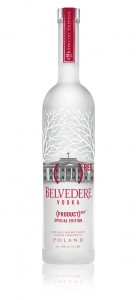 (Belvedere) RED is verkrijgbaar in strakke design flessen van 70cl en 175 cl in in tal van verkooppunten, waaronder kleinhandelaars, nachtclubs, bars, restaurants en luchthavens. In de nightclubs wordt een adviesprijs van € 100 gehanteerd waarvan dus 50% gaat naar The Global Fund to Fight AIDS, Tuberculosis and Malaria™.. Je vindt deze Special Edition Belvedere (PRODUCT) RED o.a. bij FiestaClub, Nunu, Noxx, Bypass Luxembourg en You.
Ready to paint the town RED?
Voor meer informatie over de (BELVEDERE)RED in Special Edition-fles ga naar www.facebook.com/belvederevodka of www.belvederevodka.com
---
---
---