Mannenmode herfst-winter 2011-2012 : It's all in the details.
Net zoals de mannenmode herfst-winter 2010-2011 met de mannenrok de mosterd ging halen bij de vrouwen, is dit ook weer het geval voor hét trendy en opvallend detail van het komende najaar : de externe zak. Het is algemeen geweten dat de trends in de mannenmode zich niet zo snel opvolgen als bij de damesmode, zonder daarom minder vooruitstrevend te zijn. Maatwerk met een, zeg maar, zinvolle twist. De externe zak…een zak die als het ware lijkt op een buidel vastgehecht aan de buitenkant van een kledingstuk.
Het voordeel van de externe zak is de grootte, die toch wel behoorlijk is, en voor trendy mannen met allerlei accessoires en must haves zoals een Pad, smartphone of andere trendy gagdgets, is dit toch wel van groot belang, zouden we zo denken.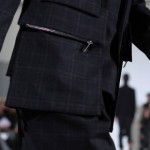 Het esthetische aspect laten we nog in het midden…you love it or you hate it…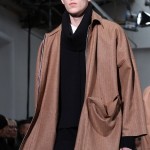 Toch zijn we de mening toegedaan dat sommige van de kledingstukken wel aardig in hun opzet geslaagd zijn. Ook al is de externe zak nog niet overal terug te vinden op elke jas of broek, in elk geval zullen we dit opvallend detail de volgende seizoenen nog te zien krijgen.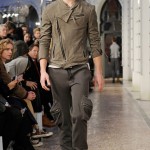 ---
---
---